DRIVER | 3 WOOD | HYBRID
Designed and constructed with premium materials and top-tier attention to detail, the Haywood collection was rigorously tested against it's competitors. Across this line, we deliver performant, acoustically pleasing, and aesthetically timeless clubs at a fair, attractive price point.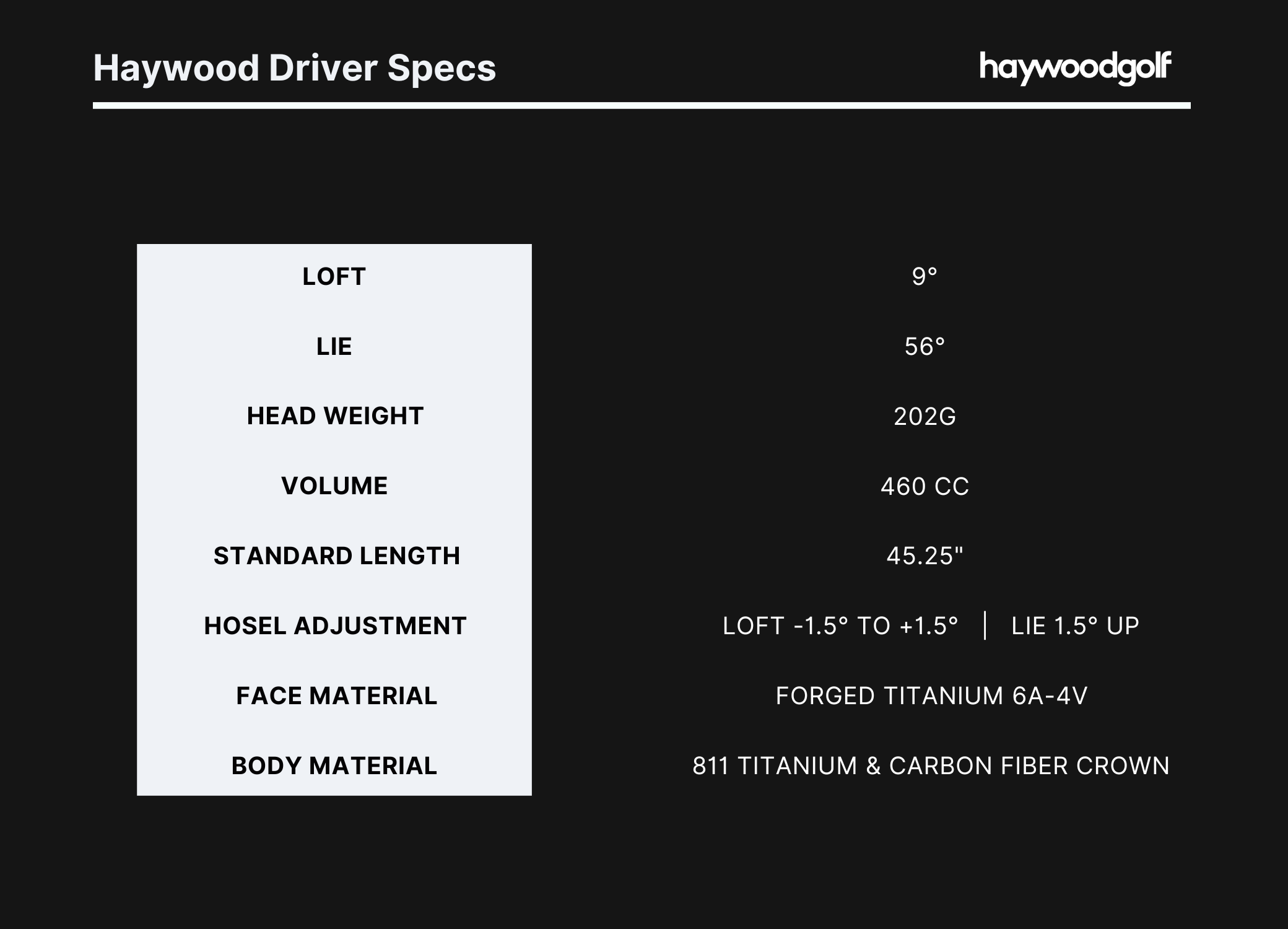 DRIVER
The Haywood driver is firmly rooted in Haywood's design ethos, emphasizing simplicity and minimalism. Atop sits a carbon fiber crown set in an 811 titanium body with a subdued matte black finish. Our mid-launch, low-spin driver includes a 15-gram back weight, increasing the MOI (moment of inertia), and encouraging a more forgiving shot on off-center strikes. Players are able to modify both loft and lie angles with our adjustable hosel. Its forged titanium face offers stronger durability and a softer feel, combined with our internal multi-sectional ribbing, provides a more muted sound at impact. At address, the face offers alignment aids to ensure your ball is centered in its sweet spot. Our token style extends to the sole where our logo is embossed in a black glossy finish.
3 WOOD
Designed to help golfers launch the ball with ease, whether it be from the fairway or off the tee. When creating the Haywood 3 Wood, we endeavoured to produce a metal wood that would serve the majority of golfers. With its carbon fiber crown, adjustable hosel, and S450 stainless steel face, this club delivers power and precision on every shot. The 17-4 stainless steel body provides strength and durability, while the 15- gram back weight increases MOI for added forgiveness. Internal channelling improves the acoustics of the club for a satisfying sound with every swing. The elegant and simplistic design features a matte black body, with the Haywood logo embossed in black on the glossy sole. Whether you're a seasoned pro or a beginner, the Haywood 3-Wood is sure to impress.
HYBRID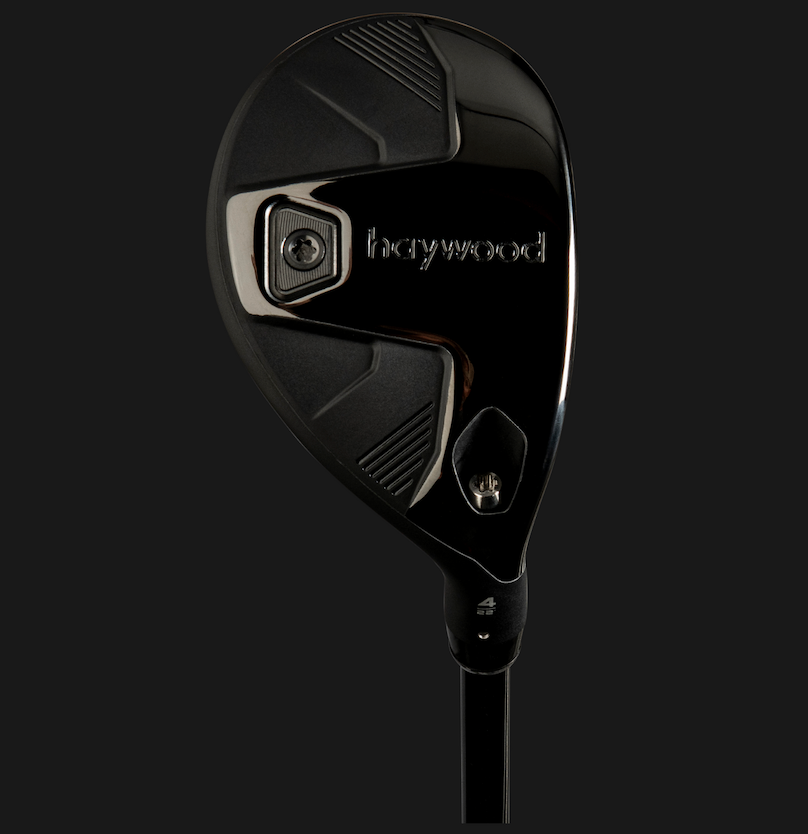 Introducing the Haywood Hybrid, designed to elevate your game with its sleek and classic matte black design. This club delivers high ball speeds, resulting in construction offers a satisfying sound on impact. The 17-4 Stainless Steel face and body provide both durability and performance. With a 15g back weight and adjustable hosel, you can easily customize the club to your personal preference for a more controlled swing. Whether you're a seasoned player or just starting out, this hybrid club is sure to deliver a winning combination of style and performance

THE TESTING
The data in the chart below were collected by an independent 3rd party robotic testing system. The 'Golf Robot' used, allows for unbiased results and a shot-for-shot comparison on multiple areas of the face against two of the leading competitors. The results are clear; we are neck and neck with the leading competitors but at a much more afforadable price point.

To learn more about our testing process, read all about it on our blog.

Center Hit Driver
| | club speed | ball speed | spin | dispersion | carry distance | total distance |
| --- | --- | --- | --- | --- | --- | --- |
| Haywood Driver 9° | 95.1 | 140.3 | 2248 | 1.5 | 219.3 | 242.5 |
| Titliest TSR2 9° | 95.3 | 139.8 | 2783 | 1.1 | 223 | 243.5 |
| TaylorMade Stealth 9° | 95.7 | 140.8 | 2593 | 2.6 | 221.2 | 243.8 |
3/4 Toe Hit Driver
| | club speed | ball speed | spin | dispersion | carry distance | total distance |
| --- | --- | --- | --- | --- | --- | --- |
| Haywood Driver 9° | 94.7 | 139.1 | 2273 | 4.6 | 215.8 | 240.2 |
| Titliest TSR2 9° | 95 | 137.8 | 2862 | 5.5 | 218.4 | 237.8 |
| TaylorMade Stealth 9° | 95.8 | 138.5 | 2796 | 4.4 | 216.6 | 238.9 |
3/4 Heel Hit Driver
| | club speed | ball speed | spin | dispersion | carry distance | total distance |
| --- | --- | --- | --- | --- | --- | --- |
| Haywood Driver 9° | 94.5 | 138.2 | 2332 | 2.3 | 213.9 | 237.7 |
| Titliest TSR2 9° | 94.3 | 138.3 | 2873 | 4.9 | 218.8 | 238.1 |
| TaylorMade Stealth 9° | 95.3 | 138.6 | 2675 | 3.8 | 214.9 | 237 |
*Shaft used was HZRDUS Gen4 Black (low launch/low spin)